Learn About Lanner Falcon
The Lanner Falcon (Falco biarmicus) is a large bird of prey that breeds in Africa, southeast Europe and just into Asia. It is mainly resident, but some birds disperse more widely after the breeding season.
It is a large falcon, at 43-50cm length with a wingspan of 95-105cm.
The Lanner Falcon is a bird of open country and savanna. It usually hunts by horizontal pursuit and takes mainly bird prey in flight. It lays 3-4 eggs on a cliff ledge nest, or occasionally in an old stick nest in a tree.
In the wild Lanner Falcon numbers are somewhat declining in Europe, though the species remains relatively common in parts of Africa.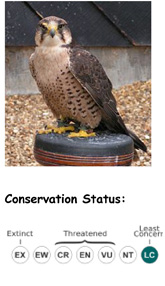 Scientific Classification:
Kingdom: Animalia
Phylum: Chordata
Class: Aves
Order: Falconiformes
Family: Falconidae
Genus: Falco
Subgenus: (Hierofalco)
Species: F. biarmicus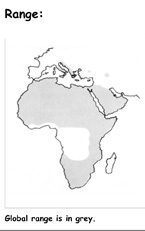 References: * BirdLife International (2004). Falco biarmicus. 2006 IUCN Red List of Threatened Species. IUCN 2006. Retrieved on 12 May 2006. Database entry includes justification for why this species is of least concern * Helbig, A.J.; Seibold, I.; Bednarek, W.; Brüning, H.; Gaucher, P.; Ristow, D.; Scharlau, W.; Schmidl, D. & Wink, Michael (1994): Phylogenetic relationships among falcon species (genus Falco) according to DNA sequence variation of the cytochrome b gene. In: Meyburg, B.-U. & Chancellor, R.D. (eds.): Raptor conservation today: 593-599. * Merret, Christopher (1666): Pinax rerum naturalium Britannicarum continens vegetabilia, animalia et fossilia, in hac insulā repperta inchoatus Pulleyn and F. & T. Warren, London. * Nittinger, F.; Haring, E.; Pinsker, W.; Wink, Michael & Gamauf, A. (2005): Out of Africa? Phylogenetic relationships between Falco biarmicus and other hierofalcons (Aves Falconidae). Journal of Zoological Systematics and Evolutionary Research 43(4): 321-331. * Sharpe, Richard Bowdler (1874): Catalogue of the birds in the British Museum 1. British Museum (Natural History), London. * Strickland, Hugh Edwin (1855): Ornithological Synonyms. J. Van Voorst, London. * Wink, Michael; Seibold, I.; Lotfikhah, F. & Bednarek, W. (1998): Molecular systematics of holarctic raptors (Order Falconiformes). In: Chancellor, R.D., Meyburg, B.-U. & Ferrero, J.J. (eds.): Holarctic Birds of Prey: 29-48. Adenex & WWGBP. * Wink, Michael; Sauer-Gürth, Hedi; Ellis, David & Kenward, Robert (2004): Phylogenetic relationships in the Hierofalco complex (Saker-, Gyr-, Lanner-, Laggar Falcon). In: Chancellor, R.D. & Meyburg, B.-U. (eds.): Raptors Worldwide: 499-504. WWGBP, Berlin.